A European Alliance for Newborn Screening in Spinal Muscular Atrophy
Published at 04/09/2020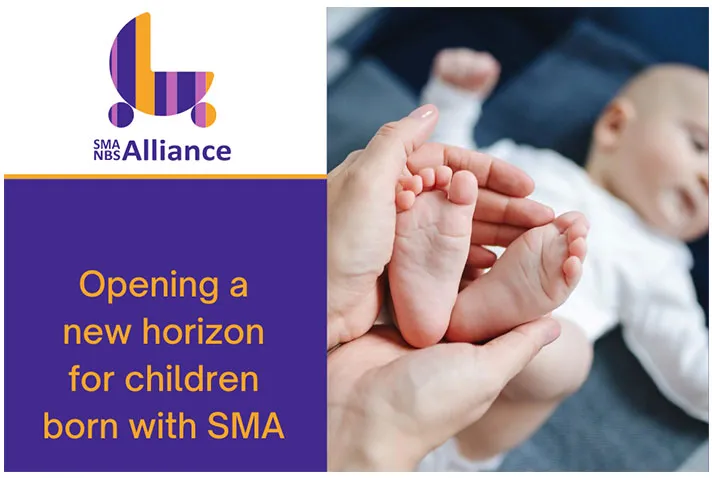 Enabling early detection and diagnosis of the disease is the aim of the new European Alliance for Newborn Screening in Spinal Muscular Atrophy (SMA NBS Alliance), launched on August 31st by SMA Europe, of which AFM-Telethon is a member.
SMA Europe launched the SMA NBS Alliance on 31st of August 2020 to advocate for newborn screening for spinal muscular atrophy in Europe. This is a fight that AFM-Telethon has also led for several years, and now made possible by the revisions of the French law on bioethics. This is due to the fact that being treated as soon as possible is critical for babies born with SMA and their family. Indeed, although there is no cure for spinal muscular atrophy, there are two treatments approved in Europe that can preserve motor neurons and remaining movement: Nusinersen (Spinraza) and Zolgensma, which has just obtained a conditional marketing authorization.

Early detection and diagnosis may thus mean the difference between life and death for an infant with a severe form of spinal muscular atrophy. Starting treatment before the loss of motor neurons also gives children a chance to lead a normal life. 

The European Alliance for Newborn Screening in SMA demands that by 2025, newborn screening programmes in all European countries include a systematic test for spinal muscular atrophy.
Alliance members will draft a white paper on newborn screening for spinal muscular atrophy, which will gather all scientific evidence and studies justifying the inclusion of SMA in national newborn screening programmes. 

They will also organize activities in their respective country to request that health regulators evaluate the inclusion of spinal muscular atrophy into existing newborn screening panels.

All of this with a major objective: opening a new horizon for children born with SMA.